The Altshuller Institute believes that all men and women seek to be more creative and innovative. We believe that with the right tools and some training, people can become 10-30% more innovative and productive. TRIZ energizes and expedites the process of innovation. TRIZ is a natural amplifier of our talents, knowledge and experience. Everything that we do in our life and any decision that we make will be better and more effective when we apply TRIZ. TRIZ alters the critical thinking of people that learn and use it.

The Mission of the Altshuller Institute is to grow productivity and innovation with TRIZ. Application of TRIZ methods to medicine, agriculture, manufacturing and management can spur innovation and improve the human condition. Join us in making this world a better place. TRIZ is the tool, you are the force and the product is a better world.

About Us: Altshuller Institute is a global organizations that has developed a viable TRIZ certification process and promotes the universality of TRIZ in the world marketplace.
What we promote: TRIZ technology will solve problems, better, cheaper and faster.
What we do: We promote the use of TRIZ in the world through conferences, webinars, books and videos. We are developing TRIZ programs for STEM education. We promote TRIZ training from TRIZ providers by advertising their workshops. Product design is your business, accelerating innovative problem solving is ours.
How we can help: Many people struggle to innovate on demand. TRIZ uses a repeatable process to e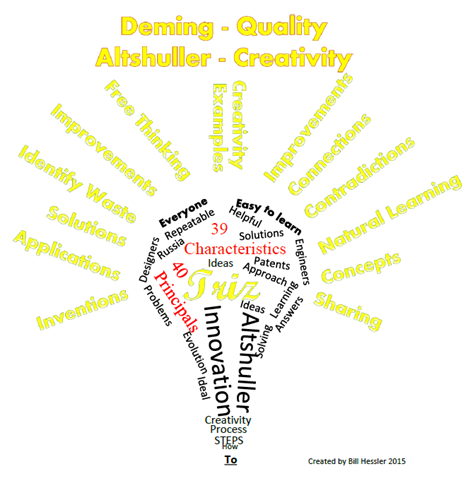 nhance your problem solving abilities. Innovation and creativity can be learned using the time proven techniques developed by Altshuller and his followers.Our organization can help your company accelerate innovation, solve your problems and move your dreams forward. Your team will learn to develop the best innovative solution for their problem. Will you help yourself by joining Altshuller Institute?
What is TRIZ?:

TRIZ

is a powerful disruptive technology that demonstrates that creativity and innovation skills can be learned. This is paradigm shift of immense importance to improve the effectiveness of individuals and organizations in product development and management and to all who would like to participate in STEM related areas.

TRIZ is unique in that it was developed from empirical data -- patent research. A knowledge of TRIZ can benefit all segments of the popula
tion.

TRIZ does not compete with or replace other quality methods but can be used to enhances their weaknesses. TRIZ synergistically compliments other quality methodologies like QFD, Six Sigma, Kaisan, Lean, etc. TRIZ energizes and expedites the process of innovation.

TRIZ

is a natural amplifier of our talents, knowledge and experience. Everything that we do in our life and any decision that we make will be better and more effective when we apply

TRIZ

.

TRIZ

alters the critical thinking of people that learn and use it. TRIZ is the Technology for Innovation.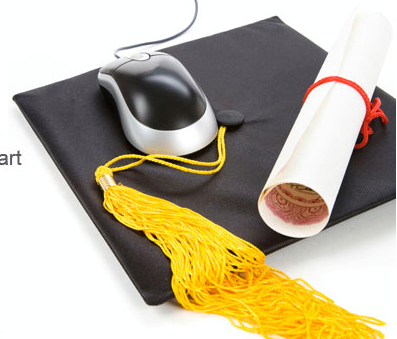 Certification:The Altshuller Institute has developed a viable TRIZ certification program to insure the integrity of th
e
TR
IZ process and the competence of the candidates that have met the rigorous requirements of certification at various level
s.
Earning a certification from the Altshuller Institute indicates that the candidate has satisfied curriculum
requirements and has passed a comprehensive test. This process insures that AI
certificants are competent to produce results at their level of achievement. (More information)

Baldrige School launches MS in Quality Program
The Malcolm Baldrige School of Business has set a MOD 1 (August 23, 2015) start date for its new Master of Science in Quality, Improvement, and Innovation degree

program, which was recently approved by the State of Connecticut Department of Higher Education. Enrollment is now open.
The program will meet the employment needs of the many organizations who have acknowledged the link between quality, organizational improvement, and innovation initiatives, integrating these concepts into one system.
The program's Academic Program Manager, Chuck Roe, promises the unique program will look at quality in terms of business, engineering, and manufacturing. "Students will explore the five elements of quality: producing, quality control, quality management, and continual improvement and innovation," Chuck says, "and the program is designed to help students obtain three certifications: Lean Six Sigma, Design for Six Sigma, and Certification for TRIZ." Roe adds that graduating students will "demonstrate a thorough knowledge of key business concepts such as total quality management, benchmarking techniques, creative problem solving, Design for Six Sigma (black belt), systems thinking, Lean Six Sigma (black belt), and Technology for Innovation (TRIZ)."
TRIZ Article


New Tools for Design
Cal Halliburton and Victoria Roza
"True inventions require the determination to solve multiple problems in order to overcome contradictions and yield creative solutions."
In this classic article, Cal Halliburton has condensed and simplified the core of TRIZ application for everyone to easily digest and apply. Cal is a teacher by trade and he spent years studying TRIZ from various TRIZ Masters. His style is simple and effective. I am sure that you will enjoy this article and learn a great deal in the effort.

When: 3-5 March 2016
What: TRIZCON2016 will be the largest international TRIZ Conference in the world.
Where: New Orleans, LA and will be hosted by Tulane University.
Why: This 3-day event brings together the largest international group of TRIZ experts and end-users. The first day of the Conference is dedicated to Tutorials beginners & advanced topics. During the next two days, Keynotes, panel discussions, numerous papers & case studies will be presented on TRIZ and related applications.
Who: Anyone looking to improve their innovation and creativity.
We will be Calling for Abstracts / Papers soon. --- Larry Smith will coordinate the Papers and Program for this event.
Mark your calendars for the biggest and best TRIZ event for 2016.

More news to follow!

For more information, visit our website.




TRIZ Feature
Alexander Selyutsky -

a key figure in the history of TRIZ!

Selyutsky Alexander Borisovich was born April 6, 1933 to an intelligent Jewish family residing in Leningrad. During the World War II the plant where his father was working was evacuated to the Urals, and the family (the parents and Alexander) moved to Chelyabinsk. Here, Alexander graduated from high school. He wanted to go to a military school, but didn't pass vision test and entered the Chelyabinsk Polytechnic Institute. In his first year he was forced to learn boxing (because of frequent anti-Semitic attacks) and became a Komsomol activist.
After graduation, he was sent to Petrozavodsk Onega tractor plant, where he worked as a designer. He continued leading a very active social life, organized and led voluntary militia patrolling the streets of the city because the situation was very criminal. In the search for more satisfying work he became interested in patenting, completed appropriate courses and became a patent agent.
In 1960, Alexander married Dolly Naumovna Audleys, and had a daughter Alla in 1961. The same year G.S Altshuller published a book " "Learn how to invent"[1] . After reading this book in 1965 Selyutsky wrote a letter to Altshuller. This letter started their acquaintance by correspondence. Since then, Alexander became one of the most dedicated Altshuller's disciples and an active promoter of the emerging new science.
They finally met in 1968 in Dzintary (near Riga), at the seminar organized by the Central Board of VOIR (state leading inventors' and innovators' society) that invited Altshuller and several of his associates. It was the first time that Alexander and others got a chance to work under the direct guidance of Altshuller and to learn from him. Later, in 1983, Alexander participated as one of the instructors in the seminar conducted by G.S. Altshuller in Moscow at the Institute for continuous education for chemical and petroleum industries.
In the late 1960s, Alexander becomes a patent agent for a brand new paper production equipment plant in Petrozavodsk. Here he starts teaching ARIZ (The Algorithm for Inventive Problem Solving). In 1968 he publishes a collection of important problems that required solutions with selected TRIZ materials and an album with TRIZ 40 principles that besides plant workers and engineers, was also used by many TRIZ colleagues..
In early 1970s, Alexander started 10-day ARIZ sessions at his plant and a furniture factory. At this time he utilizes ARIZ to solve a very important plant problem and receives a patent for his solution.
This one and other solutions were described in the book published together with a colleague GennadySlugin , "Inspiration on demand" - one of the first books on TRIZ, published by Karelia Publishing house in 1977.
In 1979, Selyutsky established Public University for Technical creativity, teaching TRIZ to engineers, workers, students and physicians. University was offering 2-year course (TRIZ, Creative Imagination Development, Lifetime strategy for creative individuals, patenting, etc.). He worked in close collaboration with Leningrad TRIZ University. The majority of TRIZ instructors from Petrozavodsk came from Selyutsky's school.
In 1980, Alexander organized the first conference for TRIZ developers and instructors in Petrozavodsk presided by Altshuller. Since then, these conferences became regular events organized by Selyutsky and his close colleagues (1982, 85, 87, 89, 91, 93, 95, 97, 99)[2].
In 1989, the situation in Baku, the city Altshuller was residing in for the most of his life became very violent, and Alexander helped Altshuller to relocate to Petrozavodsk, which was a real miracle given the realities of life in the Soviet Union at that time. Alexander turned every stone to make it happen. Since then, Petrozavodsk became "TRIZ capital."
Selyutsky was actively engaged in TRIZ publications. After the "Inspiration on demand" in 1980 he published the book "Wings for Ikarus" by G.S. Altshuller and A.B. Selyutsky. Since 1988, Alexander organized publishing of 5 books with TRIZ materials of various authors in the series "Technology-Youth-Creativity".
During Perestroika years (1987) Alexander leaves the plant and becomes a TRIZ professional involved in teaching and consulting.
Alexander Selyutsky is a TRIZ Master; he is working on TRIZ history, teaching adults, college students and schoolchildren. He has got involved in TRIZ his daughter (Alla Nesterenko is one of the leading specialists in teaching TRIZ to kids of various age) and grandchildren. Alexander' role in TRIZ is unique, he became the first TRIZ business administrator and devoted TRIZ promoter. Without him, TRIZ today will be quite different.
***************************************************************************************************************************************************
Alsthuller Institute Annual Meeting -- 23 December 2014 -- New President elected!!!

The Altshuller Institute had it's Annual Meeting for 2014 on 23 December beginning at 1:00 PM EDST.

President -- Dr. H. James Harrington.. H James Harrington. H James H
For the last three years, I've been very involved in the subject of innovation. I served on the board of the International Association of Innovative Professionals. I was in charge of their working group defined the body of knowledge for tools and methodologies. I prepared a number of papers on innovation. And I have two books that are about ready to come out on innovation. One of the books did find the body of knowledge for innovation and force triz makes a big part of that book.
I've been test president and chairman of the American Society for Quality Control and past president and chairman of the International Academy for Quality. I've had a working relationship with Ideation International Inc. for the last five years. I am presently working with the UAE government to implement a qualification program for government agencies related to innovation. I was selected by the World Bank to go to symbolically to turn around the work that was going on in the" African Capacity Building Foundation." This group gave out grant money to African countries to help them become more creative and build capacity within the nation. I completely restructured the organization using innovative processes to change their operating mode.
I believe that Altshuller's concepts are going to drive the future of innovation throughout the world. I am the author of over 40 books on performance improvement. Many of them were original concepts that I developed. I feel my background, contacts and reputation in helping nonprofit making organizations grow and implement their programs is something that would be a beneficial to your organization.
Biography: H. James Harrington, Chief Executive Officer - Harrington Institute September 2014
In the book, Tech Trending, Dr. Harrington was referred to as "the quintessential tech trender." The New York Times referred to him as having a "…knack for synthesis and an open mind about packaging his knowledge and experience in new ways -characteristics that may matter more as prerequisites for new-economy success than technical wizardry…"
It has been said about him, "Harrington writes the books that other consultants use."
The leading Japanese author on quality, Professor Yoshio Kondo, stated: "Business Process Improvement" (methodology) established by Dr. H. James Harrington and his group is some of the new strategies which brings revolutionary improvement not only in quality of products and services, but also the business processes which yield the excellent quality of the output."
The father of "Total Quality Control," Dr. Armand V. Feigenbaum stated:"Harrington is one of those very rare business leaders who combines outstanding inherent ability, effective management skills, broad technology background and great effectiveness in producing results. His record of accomplishment is a very long, broad and deep one that is highly and favorably recognized."
The author, Tom Peters, stated, "I fervently hope that Harrington's readers will not only benefit from the thoroughness of his effort but will also 'smell' the fundamental nature of the challenge for change that he mounts."
William Clinton, Past President of the U.S., appointed Dr. Harrington to serve as an Ambassador of Good Will.
See attached file for complete biography. (You must login to view this file).