TRIZ News
This area is reserved for TRIZ users to post news about their experiences with TRIZ. This may included new TRIZ-related inventions and patents, reviews of trainings / conferences, or anything else pertaining to TRIZ. To post here simply log in and click "Submit News" from the Users' Menu. The Altshuller Institute reserves the rights to censor any submitted materials.
TRIZ Home Page in Japan-13 April 2015
Updated:13 April 2015
Dear TRIZ Colleagues,


From : Toru Nakagawa, Professor Emeritus, Osaka Gakuin University
"TRIZ Home Page in Japan" has been updated today
(dated12 April, 2015) in English and in Japanese.
http://www.osaka-gu.ac.jp/php/nakagawa/TRIZ/eTRIZ/
Hello, how are you?
Spring is come in Tokyo!
"TRIZ Home Page in Japan" has been updated tonight in English and in Japanese.
http://www.osaka-gu.ac.jp/php/nakagawa/TRIZ/eTRIZ/
[1] Talk to High school students:
General Method of Creative Problem Solving by Toru Nakagawa (Dec. 1, 2014) (20 slides with exercises)
[2] Lecture to Graduate School researchers:
Methodology of Creative Problem Solving: TRIZ and Its Extension by Toru Nakagawa (Jan. 20, 2015) (57 slides)
[3] Paper: Fundamental Theory:
A Note on a Method and Granularity in the Structure of the World by Toshio Takahara (presented at FIT2013)
In Japanese. (In English, short introduction by Nakagawa)
----------------------------------------------------
[1] Talk to High school students:
General Method of Creative Problem Solving: 'Six-Box Scheme' by Toru Nakagawa
A talk presented to a dozen of highschool students at Yokohama Science Frontier High School (YSFH) on Dec. 1, 2015.
Posted in Japanese on Jan. 8 and in English translation today.
Using 20 slides I gave a talk with many small excercises on Creative Problem Solving Methods for just 60 minutes.
I tried to give a general view of how to think and solve problems creatively, by the demonstration and excercises
on my favorite case study 'How to make a knot with short string at the end of sewing'.
[2] Lecture to Graduate School researchers:
Methodology of Creative Problem Solving: TRIZ and Its Extension ~Scientific Methods for Innovation~ by Toru Nakagawa
A lecture for 90 minutes at Graduate School of Medical Science, Tottori University, on Jan. 20, 2015.
57 slides in Japanese and also in English translation.
I first describe that the basic Four-Box Scheme of Abstraction which is generally assumed in the current science and technology has a limitation and
that many conventional 'Creativity methods' address with different partial aspects without having a sound overall view.
As new scientific approaches to inventive thinking, I explain TRIZ first and then USIT. On the basis of them, the Six-Box Scheme was newly
formulated as the paradigm for 'General Methodology of Creative Problem Solving' (CrePS). These four stages of development of the methodology of
creative problem solving reflect my own understanding for these 18 years.
[3] TRIZ Paper: Fundamental Theory:
A Note on a Method and Granularity in the Structure of the World by Toshio Takahara
An 8-page paper presented at FIT2013 on Sept. 4, 2013.
Mr. Takahara's life-work theme is "To understand the world in a consistent manner, to realize the real basis of our human ways of living,
and to establish a general and logical methodology for such a study." As the basis of his logic, he builds the concepts of 'existing things' and their relationships,
and also the ways of describing the whole world, which contains technologies, institutions, and persons. For such a description, he finds the necessity of
'radical enumerative thinking' (i.e., a clearer extension of 'systematic thinking') and expressions of contradictions (i.e., a clear extension of 'problems').
He also extends the logics of dialectics in a much wider meaning. Then he considers the basis of person's recognitions and actions and derives how the person decides them,
with a range of consideration (i.e. granularity) and with a logic for solution (i.e., a thinking method). He discusses further basis of the person, i.e., the
person's attitudes. The width and depth, and clarity, of the author's consideration is indeed astonishing.
In Japanese, a full paper and slides. In English, Introduction by Nakagawa.
I am encouraging the author to translate this paper into English.
----------------------------------------------------
Please visit our website for more information about these Innovation and TRIZ topics.

Best wishes always,
Toru Nakagawa
6th International Conference on Systematic Innovation (ICSI)
TRIZ News
The Society of Systematic Innovation
CALL FOR PAPERS & PROJECTS
The 6th International Conference on Systematic Innovation (ICSI)
& The 5th Global Competition on Systematic Innovation (GCSI)
July 15-17, 2015, Hong Kong University of Science and Technology, Hong Kong
http://www.systematic-innovation.org/ICSI2015 Email: This email address is being protected from spambots. You need JavaScript enabled to view it.
Sponsored by: The Society of Systematic Innovation (SSI)
Co-organized by: Institute of Systematic Innovation, Hong Kong,
The Hong Kong Institution of Engineers-Manufacturing and Industrial Division
Department of Industrial Engineering and Logistics Management, Hong Kong University of Science
and Technology, International TRIZ Association, and Altshuller Institute of TRIZ Studies.
Call For Project Competition/Exhibition
Your outstanding innovation deserves Global Recognitions in the International Arena!
Innovation maybe accidental, systematic innovation is destined!
http://www.systematic-innovation.org/icsi2015 E-mail: This email address is being protected from spambots. You need JavaScript enabled to view it.
Multiple gold/silver/bronze medals awards available
First place award: USD 3,000 + platinum medal award + certificate
Up to USD 8,000 awards+medals+certificates awaiting you.
Author's live presentation is NOT required to win, though encouraged.
Both events are high impact and energy with lots to see and lots to learn. All AI members can enjoy the same discount as the SSI member. Just indicate the AI membership on the registration.
What Makes Samsung Such An Innovative Company?
By Haydn Shaughnessy, Contributor,
"I write about enterprise innovation"
Tech 3/07/2013 @ 6:32AM

|

50,392 views
Forbes Magazine
Full article at: http://www.forbes.com/sites/haydnshaughnessy/2013/03/07/why-is-samsung-such-an-innovative-company/
Samsung is a global leader in screen technology, TVs, batteries, and chip design. So in terms of innovation it is doing a lot right. But we know very little about how.
Two developments convinced the company in the late 1990s and early 2000s that they could adopt a systematic approach to innovation and that is what seems to underpin their current success.
The first development provides a broader explanation for Samsung's innovation capacity. In the late 1990s they were able to tap into a source of cheap scientific expertise in the former Soviet Union.
In 2009 BusinessWeek reported that Samsung relied on its relationships with Russian experts for its smartphone software development, adding: "Russian brains helped Samsung develop the image-processing chips in its digital TVs and refine its frequency-filtering technology that significantly reduced noise on its now-ubiquitous handsets."
But a second effect of the relationship with Russian science was the introduction of TRIZ, an innovation method that Samsung adopted from 2000 onwards but which only reached American companies from the mid-2000s onwards (Intel is a user).
TRIZ is a methodology for systematic problem solving. Typical of its origins in Russia, it asks users to seek the contradictions in current technological conditions and customer needs and to imagine an ideal state that innovation should drive towards.
Samsung had early successes with TRIZ, saving over $100 million in its first few projects. It was also adopting Six Sigma at the time.
But it was TRIZ that became the bedrock of innovation at Samsung. And it was introduced at Samsung by Russian engineers whom Samsung had hired into its Seoul Labs in the early 2000s.
In 2003 TRIZ led to 50 new patents for Samsung and in 2004 one project alone, a DVD pick-up innovation, saved Samsung over $100 million. TRIZ is now an obligatory skill set if you want to advance within Samsung.
At the Samsung Advanced Institute for Technology, Hyo June Kim, who wrote The Theory of Inventive Problem Solving, a foundation text on TRIZ published in Korean, trained over 1,000 engineers across Samsung companies in 2004 alone.
What we know from this is how Samsung approaches innovation. Rather it is based on developing a creative elite. This explains how Samsung used TRIZ to get to its Super AMOLED displays.
Samsung Electronics has a sense of crisis that we have been a fast follower and we can not survive anymore in this position. Instead of leading the industry by developing innovative products, we have followed fast what the leading companies had developed. Top management pointed out this and asked employee not to be a fast follower, but to be an innovative leader.
At Samsung even the subsidiary CEO has to take TRIZ training. From looking at the various presentations I estimate that engineers get about 15 days of training plus 7 days specific project work. That's quite an investment in method and people.
So the answer to why Samsung is so innovative – with at least two major product announcements this month – is that it is heavily invested in its people, it goes in search of special talent wherever it can find it, but specifically made astute moves into Russia early on; it targets its innovations towards specific competitors and patents that it wants to overhaul (as Apple did under Jobs); and it has an innovation culture based on extensive training, repeatable methodology and creative elite formation, backed by the highest levels of management.
To read the full article, click the link above.
Romulo Garza Award
+++++++++++++++++++++++++
Romulo Garza Award: Professor Inventor Category - February 2013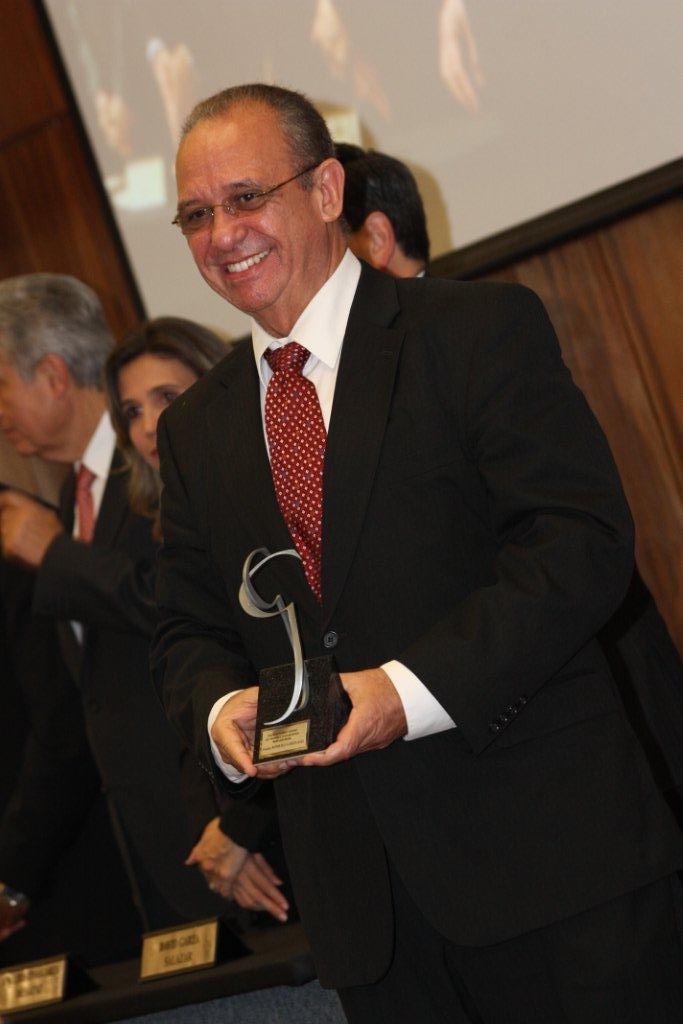 This last February of 2013 Dr. Noel Leon, Emeritus Professor of the School of Engineering and Information Technology of Tecnologico de Monterrey, was granted with the Rómulo Garza award in the category of Professor Inventor.

Dr. Leon graduated as DiplomEngineer in Agricultural Machine Design in 1969 from the Dresden University of Technology in Germany. He has a Ph.D. in Mechanical Engineering (summa cum laude) from the same University in 1976.


He is recognized as the first Latin American certified in the TRIZ innovation methodology in 1996, and he is one of the leading international experts in this methodology for the development and innovation of products, processes and services. He has trained and educated engineers, technicians and managers from Mexico, Chile, Colombia, Panama, Ecuador, Peru, France and Germany in this methodology. He practices also the methodology of Quality Function Deployment, QFD. He was the president Latin American QFD Association. Dr. León is a prominent member of the Altshuller Institute for TRIZ studies and serves on the Publications Committee.

In his courses, he uses the Project-based learning technique, and together with his students he has achieved the development and innovation of more than 50 industrial products.
Among some of the patents that have been granted in his name are:
US6739438

Brake Rigging System,

MX261228 Portable device for self-diagnostic tests of cervical uterine cancer through simultaneous optical and electrical measurements.

NL/a/2005/000066 Saving Energy with an electronic sweeping circuit

NL/a/2005/000072 /MX 288055 Improved system of slope protection with whole or halved waste tires

NL/a/2006/000003 Centrifugal Filter of Reverse Osmosis with increased flow by vortex

Mx/a/2007/002577 Electro-thermal device for controlling the temperature in Textiles

NL/a/2005/000021 Axial reciprocating engine.

Mx/a/2008/016474Solar concentrating lens by refraction with high efficiency

Mx/a/2007/015520 Wall structure with thermal insulation.

NL/a/2005/000016 Sampling of endocervical and ectocervixcells
Dr. Leon is founder and Honorary President of the TRIZ Mexico Association (AMETRIZ), which has developed six international conferences in Technological Innovation. Currently,
he is director of the Research Chair "Engineering Design and Innovation" at ITESM, Campus Monterrey.
***************************