TRIZ News
This area is reserved for TRIZ users to post news about their experiences with TRIZ. This may included new TRIZ-related inventions and patents, reviews of trainings / conferences, or anything else pertaining to TRIZ. To post here simply log in and click "Submit News" from the Users' Menu. The Altshuller Institute reserves the rights to censor any submitted materials.
TRIZ Home Page in Japan-April 2014
3 April 2014
Dear TRIZ Colleagues,

From : Toru Nakagawa, Professor Emeritus, Osaka Gakuin University
"TRIZ Home Page in Japan" has been updated on 2 April in English and in Japanese pages:
http://www.osaka-gu.ac.jp/php/nakagawa/TRIZ/eTRIZ/
----------------
[1] "Brief Guide of How To Use the Southbeach Modeller"
Toru Nakagawa
"Brief Guide of How To Use the Southbeach Modeller
(in the Editor Mode)"
Toru Nakagawa (Osaka Gakuin Univ.)
The Southbeach Modeller is a very sophisticated and
excellently designed software tool.
It has so many functions, features, and options, and yet
is shown on the window in a very compact way.
It has a rich library of white papers, specifications,
demo videos, sample outputs, and examples made by
developers and users.
The usage of the software is mostly intuitive.
However, its users meet some difficulty for starting up.
A lack of Users Manuals may be the weak point.
I think NOT a Reference Manual but a brief & easy Guide
is needed for the beginners of the Southbeach Modeller.
Thus I wrote this Guide in Japanese a year ago (and
posted on Jun. 9, 2013), for assisting the beginners to
get started in using the Southbeach Modeller in the
Editor Mode (i.e., for building the models).
I am now posting it in English translation.
[2] "Effective strategy to introduce and propagate TRIZ
into companies based on the bad and good experiences
in Korea"
Kyeongwon Lee (Korea), ETRIA TFC2013 - Bibliography and Japanese translation: Toru Nakagawa
Korea is the country most successful in introducing,
propagating and applying TRIZ in industries, among the
countries in the world.
In the initial stage of introducing TRIZ in Korea (ca.
1996 - 2005), TRIZ was not accepted widely because of
various barriers and bad experiences, the Author says.
The situation was changed by the success of practical
industrial examples developed in Samsung by Russian
TRIZ experts employed at TRIZ promotion department.
Executives of Samsung recognized the success, and
promoted to develop education and training programs and
expand the application of TRIZ to real projects.
Such TRIZ activities were expanded to other big
industries in Korea, and were carried out with much
enthusiasum as a big movement in Korean industries,
he says.
On the basis of 'bad' and 'good' experiences the author
suggests 'Effective strategies' for introducing and
propagating TRIZ in industries.
PDF files of the paper and the slides in English,
and the Japanese translation of the paper.
I collected the papers concerning to TRIZ activities in
Korea as a bibliography.
There are about 40 papers (including original papers/
presentations and my own introductions to them in my
Personal Reports of conferences), having direct links
mostly in this Web site and some in other official sites.
[3] Publication Announcement of the Japanese Edition:
Darrell Mann's "Matrix 2010:
Re-updating the TRIZ Contradiction Matrix"
Toru Nakagawa (OGU and CrePS Institute)
As the second volume of "TRIZ Practices and Benefits"
series, we have just publised the Japanese Edition of
Darrell Mann's "Matrix 2010: Re-updating the TRIZ Contradiction Matrix".
'Contradiction Matrix' is known as a typical method
in TRIZ, but in fact it had a peculiar history of
development and evaluation.
The Contradiction Matrix published today in most (i.e.,
except Mann's) TRIZ textbooks is the one of size 39×39.
It was originally developed by G. Altshuller with
tremendous paper-and-pencil efforts by the beginning of 1970s.
Engineers at that time, and nowadays as well, were much
attracted to it with the great vision and results.
However, Altshuller himself evaluated its usefullness
below his expectation, and hence he omitted this method
from ARIZ (i.e., the stadard process of TRIZ) in mid 70s
and did not recommend it any longer to his students.
When TRIZ was introduced to the Western world in 90s,
basic and earlier knowledge of TRIZ was mostly brought
in, and Contradiction Matrix became popular.
It has been used in the old form, because updating it
would need a huge work. Darrell Mann et al started the big project of updating
Contradiction Matrix in 2000;they analyzed all the US patents granted since 1985
to establish an updated Matrix with full usage of modern IT tools. Their Matrix 2003 is of size 48×48, while Matrix 2010
size 50×50.
Categorization into parameters and the suggestions of
applicable Principles have become easier to understand and apply.
As the progress in science and technology, the contents
of the Contradiction Matrix should also evolve, Mann says.
I believe that we should use the updated Matrix instead
of the original/old one, for appreciating and furthering
the vision and philosophy of our TRIZ Father.
----------------------------------------------------
Please visit our website for more information about these Innovation and TRIZ topics.

Best wishes always,
Toru Nakagawa
What Makes Samsung Such An Innovative Company?
By Haydn Shaughnessy, Contributor,
"I write about enterprise innovation"
Tech 3/07/2013 @ 6:32AM

|

50,392 views
Forbes Magazine
Full article at: http://www.forbes.com/sites/haydnshaughnessy/2013/03/07/why-is-samsung-such-an-innovative-company/
Samsung is a global leader in screen technology, TVs, batteries, and chip design. So in terms of innovation it is doing a lot right. But we know very little about how.
Two developments convinced the company in the late 1990s and early 2000s that they could adopt a systematic approach to innovation and that is what seems to underpin their current success.
The first development provides a broader explanation for Samsung's innovation capacity. In the late 1990s they were able to tap into a source of cheap scientific expertise in the former Soviet Union.
In 2009 BusinessWeek reported that Samsung relied on its relationships with Russian experts for its smartphone software development, adding: "Russian brains helped Samsung develop the image-processing chips in its digital TVs and refine its frequency-filtering technology that significantly reduced noise on its now-ubiquitous handsets."
But a second effect of the relationship with Russian science was the introduction of TRIZ, an innovation method that Samsung adopted from 2000 onwards but which only reached American companies from the mid-2000s onwards (Intel is a user).
TRIZ is a methodology for systematic problem solving. Typical of its origins in Russia, it asks users to seek the contradictions in current technological conditions and customer needs and to imagine an ideal state that innovation should drive towards.
Samsung had early successes with TRIZ, saving over $100 million in its first few projects. It was also adopting Six Sigma at the time.
But it was TRIZ that became the bedrock of innovation at Samsung. And it was introduced at Samsung by Russian engineers whom Samsung had hired into its Seoul Labs in the early 2000s.
In 2003 TRIZ led to 50 new patents for Samsung and in 2004 one project alone, a DVD pick-up innovation, saved Samsung over $100 million. TRIZ is now an obligatory skill set if you want to advance within Samsung.
At the Samsung Advanced Institute for Technology, Hyo June Kim, who wrote The Theory of Inventive Problem Solving, a foundation text on TRIZ published in Korean, trained over 1,000 engineers across Samsung companies in 2004 alone.
What we know from this is how Samsung approaches innovation. Rather it is based on developing a creative elite. This explains how Samsung used TRIZ to get to its Super AMOLED displays.
Samsung Electronics has a sense of crisis that we have been a fast follower and we can not survive anymore in this position. Instead of leading the industry by developing innovative products, we have followed fast what the leading companies had developed. Top management pointed out this and asked employee not to be a fast follower, but to be an innovative leader.
At Samsung even the subsidiary CEO has to take TRIZ training. From looking at the various presentations I estimate that engineers get about 15 days of training plus 7 days specific project work. That's quite an investment in method and people.
So the answer to why Samsung is so innovative – with at least two major product announcements this month – is that it is heavily invested in its people, it goes in search of special talent wherever it can find it, but specifically made astute moves into Russia early on; it targets its innovations towards specific competitors and patents that it wants to overhaul (as Apple did under Jobs); and it has an innovation culture based on extensive training, repeatable methodology and creative elite formation, backed by the highest levels of management.
To read the full article, click the link above.
Romulo Garza Award
+++++++++++++++++++++++++
Romulo Garza Award: Professor Inventor Category - February 2013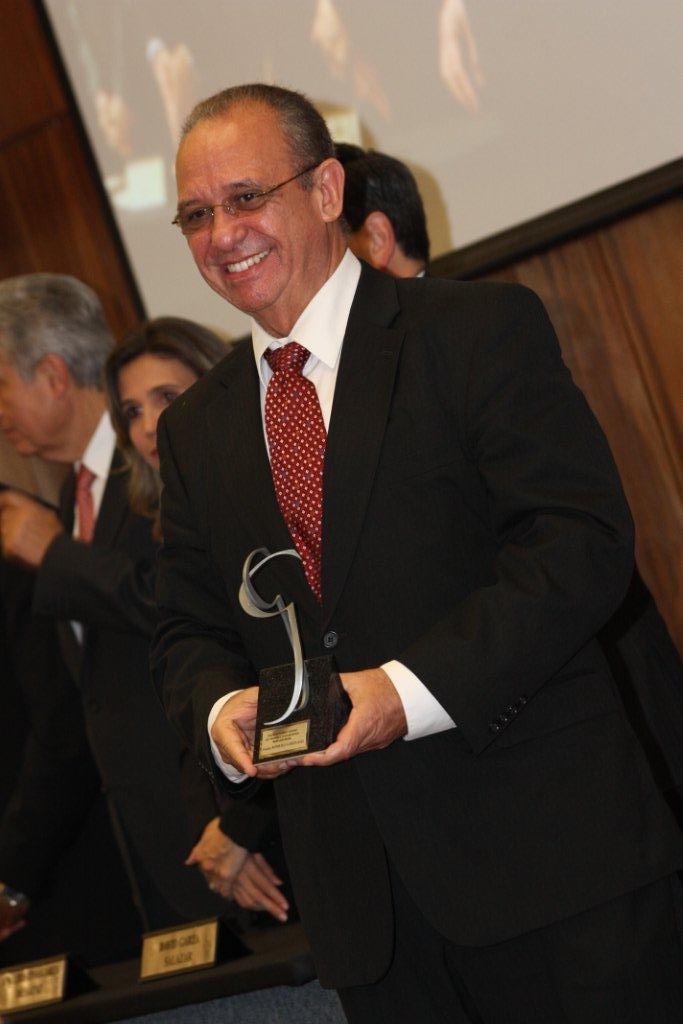 This last February of 2013 Dr. Noel Leon, Emeritus Professor of the School of Engineering and Information Technology of Tecnologico de Monterrey, was granted with the Rómulo Garza award in the category of Professor Inventor.

Dr. Leon graduated as DiplomEngineer in Agricultural Machine Design in 1969 from the Dresden University of Technology in Germany. He has a Ph.D. in Mechanical Engineering (summa cum laude) from the same University in 1976.


He is recognized as the first Latin American certified in the TRIZ innovation methodology in 1996, and he is one of the leading international experts in this methodology for the development and innovation of products, processes and services. He has trained and educated engineers, technicians and managers from Mexico, Chile, Colombia, Panama, Ecuador, Peru, France and Germany in this methodology. He practices also the methodology of Quality Function Deployment, QFD. He was the president Latin American QFD Association. Dr. León is a prominent member of the Altshuller Institute for TRIZ studies and serves on the Publications Committee.

In his courses, he uses the Project-based learning technique, and together with his students he has achieved the development and innovation of more than 50 industrial products.
Among some of the patents that have been granted in his name are:
US6739438

Brake Rigging System,

MX261228 Portable device for self-diagnostic tests of cervical uterine cancer through simultaneous optical and electrical measurements.

NL/a/2005/000066 Saving Energy with an electronic sweeping circuit

NL/a/2005/000072 /MX 288055 Improved system of slope protection with whole or halved waste tires

NL/a/2006/000003 Centrifugal Filter of Reverse Osmosis with increased flow by vortex

Mx/a/2007/002577 Electro-thermal device for controlling the temperature in Textiles

NL/a/2005/000021 Axial reciprocating engine.

Mx/a/2008/016474Solar concentrating lens by refraction with high efficiency

Mx/a/2007/015520 Wall structure with thermal insulation.

NL/a/2005/000016 Sampling of endocervical and ectocervixcells
Dr. Leon is founder and Honorary President of the TRIZ Mexico Association (AMETRIZ), which has developed six international conferences in Technological Innovation. Currently,
he is director of the Research Chair "Engineering Design and Innovation" at ITESM, Campus Monterrey.
***************************